Rent a Terraria server and enjoy lag-free multiplayer gameplay with your friends online. We have dedicated Terraria server hosting with mods available for PC, PS4, Xbox and Mobile.
Cheap Terraria Hosting from $4.90
Our advance server hosting allows you to explore all the customization options and take total control of Terraria and other players as well. You are free to manipulate any game settings to suit your requirements without any restrictions and most importantly, a stable ping to enjoy Terraria at its best.
Server Hosting Features
High performance
With your own dedicated server, you won't have to depend on the public server, which has a reputation for being highly unstable and inconsistent. One minute your game is running as smooth as butter and the next second your game is on the verge of freezing up with excess lag. Our Terraria server hosting ensures optimum network consistency to allow your game to run smoothly without any major frame drops to provide you with the ultimate gaming experience.
Affordable pricing
Most people don't bother paying for a dedicated server. Instead, they prefer to put up with the inconsistent default server, why? Because most Terraria server hosting service providers charge a considerable chunk of their savings. It does not seem right to be spending all that savings away for a video-game, doesn't it? However, our Terraria server hosting service comes with a fairly low price tag, which means you won't have to sell your organs to enjoy smooth gameplay.
Instant setup
We will deliver your dedicated Terraria server instantly after the payment transaction is successful, allowing you to start using our state-of-the-art hosting feature as the earliest. The setup and installation process is completed within some few minutes automatically. You just need to launch your server, and that is primarily it. Your server will go active, and you can start playing whenever you want. Simple and fully-automatic!
DDoS protection
It is of utmost importance for any game server hosting to be equipped with DDoS (Distributed Denial of Service) protection to ensure your server is safe from any external and malicious threats. Our advanced DDoS protection works efficiently to keep any infiltrations at bay to ensure your server is always running on the most secure platform.
99.99% uptime
What is the point of renting a server hosting if you're unable to gain access to it in the first place? With our incredible uptime efficiency of 99.9%, you no longer have to worry about the game getting crashed or even out-of-service when you need to connect with your friends and play multiplayer mode. Our server stays active for 99.9%, which means you can enjoy the game whenever you want to without any service restrictions.
What's Terraria?
Anyone who grew up with retro video games will understand the significance of Terraria and what it represents. Terraria is an action-adventure video game sharing some striking gameplay similarity with the iconic and cult-classic Minecraft. Terraria first released in 2011 and received positive accolades from the gaming community. In fact, by 2019, the game has sold over 27 million copies making it a highly successful venture.
The game (of course) received cosmic attention due to its resemblance with Minecraft. Despite some basic gameplay similarity, Terrarian has its unique take on the whole "sandbox" game-genre. Terraria provided with a more objective-based gameplay rather than sticking with the traditional sandbox culture that gave little significance to the story progression.
The concept of Minecraft was simple – Lay out some fundamental rules and let the individual players do what they want. Terrarian, in contradiction, provided the players with some sense of direction or reason to complete specific objectives.
Explore, Build & Craft
Terraria revolves around some basic components such as combat, building, exploration, mining, and crafting. The player progresses through the game by completing some specific tasks such as exploring caves or defeating monsters (skeletons, zombies, etc.) in order to obtain several resources or items.
The player can use a plethora of mechanics for combat purposes such as guns, bows, magic spells, or swords. The player also encounters several "bosses" at strategic times or locations. Defeating them will allow players to obtain several rare items and in-game currencies to help them advance through the game.
Multiplayer Online
The mechanics of the game are dynamic and allow players to partake in a plethora of activities or missions to help them build structures or gain additional health and mana as the game progresses, and the bosses become harder to defeat.In multiplayer mode, the players can either play Player Vs Player (PvP) match-ups or compete in completing specific tasks either individually or as a team (cooperatively).
In multiplayer mode, the players can connect with each other in two ways –Server Host and playIn multiplayer mode, you and your friends can explore a wide array of game mods. PvP mods (of course) allow you to combat with each other or as a team. The mechanics of the gameplay varies with PC and smartphone as well. You can join a team and partake in completing cooperative missions to earn various items, in-game currency or just physical attributes (health or mana).
Game Modes
There are also various exciting game mods like Tremor, Calamity, Thorium, Fargo's mutant mod, prefix for enemies, etc. These are only some of the most popular (and challenging) multiplayer game mods you can choose and play with your friends online. Another intriguing game mod in multiplayer gameplay is "Capture the gem" which is similar to the usual "Capture the Flag" game mod available in many other games. In CTG, the objective is to, well, capture all the gems. Opposing teams can attack each other to try and steal their gems. The game can be played as a 4v4, 1v1 or even 10v10 multiplayer mode.
How to install tModloader on a Terraria Server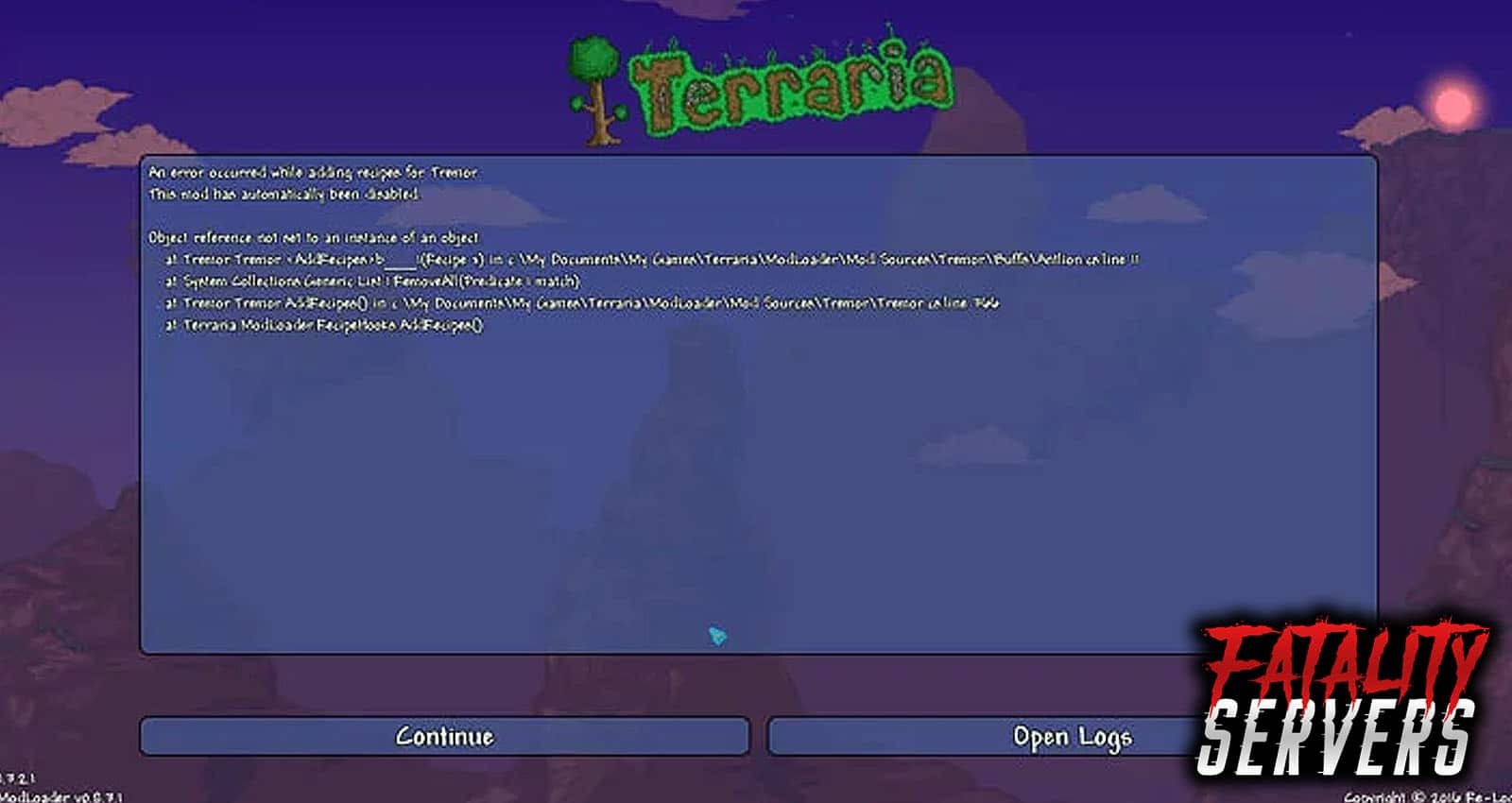 Terraria is a very adventurous game with a somewhat surprising turn of events. Many mods are available to make the already adventurous game even more enjoyable. But Modding on an online server can be a bit tricky. Most of the time, because they are designed to be alter-proof in order to encourage fair-play. But that does not mean Terraria cannot be modded, but does that mean a player can play unfairly? Not necessarily.
TModLoader is an API tool designed for Terraria. It is basically a script extender, and it helps people load mods and create them as well.
How to install tModLoader
TModLoader is a great tool to create and apply mods. It is especially useful if players want to make sure that multiple mods don't alter each other while running at the same time. Yes, without even having to decompile or recompile the Terraria Executable.
TModLoader is meant for Terraria version 1.3 or above, so it is best to upgrade if running older vanilla versions.
Download tModLoader:
The first thing to do, of course is to download the TModLoader. It can be downloaded by simply searching for it on Google. The file will be downloaded in a Zipped Folder, so once downloaded, unzip the file and the contents.
Install tModloader:
The next step is to install the Loader. The file also includes a readme.txt file. It will contain the instructions for installing the tModLoader for further reference. There is an Installer.jar file in the contents. Run the installer, and a setup prompt will start. After that, the set up will be complete.
How to use tModloader:
To use tModLoader, open Terraria as usual. Once done, there should be a new extra menu option. If the menu is not present, the installation might not have worked well. In that case, remove and reinstall tModLoader.
How to Install Mods using tModLoader:
There are many mods that can be downloaded. Terraria Mods are .tmod files. Using the tModloader menu, open the Mod browser. The method to download is simple: browse, and click on the download button.
The directory is set by default, but are not enabled. After downloading the mod, open the Mods Menu, click on the necessary mod and click on reload.
If the mod is downloaded from a different source, the mod folder can be moved to the preset mod directory.
tModLoader with other players:
TModLoader will work with any servers, but if mods are installed, the server will only be shared with other TModLoader users. Thus, maintaining a fair and equal environment. To be able to play with friends, either remove tModLoader back to its vanilla version or let friends download.
TModLoader Errors
There are not many TmodLoader errors. It does not work on pirated versions, however.
To avoid any errors, follow the instructions below:
Unzip all files before the installation
Run TModloader from the Steam install directory
Verify the integrity of the data on Steam
Disable Antivirus during installation
Check the Ram usage as well as the requirements of different mods.
So what are you waiting for? Rent Terraria server hosting to enjoy uninterrupted quests and adventures. We prioritize our gaming performance and network stability to give you the best gameplay experience irrespective of what type of game mods you choose or how much players are connected to the server.
Terraia also has multiplayer options to allow multiple users to connect to the same physical server and take part in completing quests or play against one another.
Frequently Asked Questions
What's the monthly hosting rental cost?
Terraria's monthly hosting rental cost depends on server configuration. In addition to the number of slots, additional memory, the server type (VPS or shared), MySQL database, branding, and payment period also add to the rental cost.
We also offer a 30% discount per month if you choose to rent the server for a longer period. If you think you will be playing Terraria for a long time, we suggest renting a server for 3+ months.
How long do I have to rent a server?
You have to rent a server for any game (including Terraria) for 30 days.
Longer you choose to rent a server, cheaper it becomes in the long run. When you rent a server for a longer period, you can enjoy a 30% discount. Also, you can split the cost with your friends or other players.
Will my server always be online?
With our exceptional 99.9% uptime, your server will never experience downtime. It is always going to be online, even if you turn your computer or console off. This makes sure your friends or other players can play the game anytime. For this, you need NOT keep your PC, PS4 or Xbox One on all the time. Also, you can access the server via dashboard if you are not in the game. This allows maximum server control.
Can I change to another game later?
You can change to any other game whenever you want. You are free to switch from Terraria to Minecraft, DayZ or Rust. We are here to help you switch. Just drop us a message via the contact page and we will get back to you in a jiffy.
How many players can join my server?
For Terraria hosting, 10 to 128 players can join your server. You need to choose the number of slots before checkout. That's how many players can join your server later. When hosting with a VPS server, the number of slots depends on RAM, CPU, etc.
Do I need more RAM/CPU for my server?
You only need more RAM/CPU for your server if you want to add other extra resources or enter the game in basic mode. Prepaid Terraria game servers are perfectly configured and so, do not require add-on specs. Still, you can choose to add more resources if you wish to. Then, you need more RAM/CPU, and you can add it right before checkout to avail the service.
Can I install mods/add-ons?
You definitely can. As you start playing Terraria, you will want to make creative changes to the game. Mods/add-ons can help you with that. So you are free to add as many mods/add-ons as you wish to.
If you do not know how to install Terraria mods/add-ons, you can follow our detailed guide for installation.
If you have any other questions regarding our cloud performance server hosting, get in touch with us via our contact page, and we'll get back to you ASAP.