Rent Ark: Survival Evolved server hosting with us and enjoy an uninterrupted gaming experience with optimum customization options and flawless gaming performance without any server lag or poor ping connections.
Cheap Ark Survival Hosting from $4.90
From 10 to 130 Slots
Support for SE, Survival of the Fittest, Extinction and Xbox One/PS4.
Free DDoS protection
And much more.
Our Ark server hosting provides you with tons of in-game customization options that are otherwise not made available on the actual game. This allows you to experience a whole new level of immersive gameplay and take total control of your game either when you're playing a solo adventure quest or a multiplayer game mode with your friends.
Hosting Features:
Unlimited traffic
No matter what or how many players are connected to your server, your gaming performance will never slow down. Our excellent server traffic management system supports unlimited traffics, which means you never have to worry about inviting an extra friend to your server.
Easy back-up
Your computer keyboard no longer has to suffer your wrath every time you get yourself killed in the game. With our easy back-up feature, you can go back to your previous game progress and continue from where you left off.
DDoS protection
With our advanced DDoS protection, your Ark server hosting always remains immune from any external malicious attacks that can compromise the security of your dedicated server. Our extra security-layered protection keeps your server at bay from any illegitimate service permissions.
Simple and fast set-up
We ensure you don't have to wait for an eternity to make use of our premium server hosting service by delivering it to your PC as soon as you complete your payment transactions. Setting up our server hosting is also a straight forward method with minimum complications. You just need to follow the instructions and the complete set-up will be installed in just some few mouse clicks.
Our server hosting also makes it an extremely effortless process to choose your ideal Ark game mod from over 1,800 options and install it with one simple click.
Fully equipped and tons of customization options
Our server hosting comes fully equipped with all the expansion packs released till date. Choosing and installing any of your favourite expansion packs is a one-click process allowing you to conserve your time searching and downloading them individually.
Our Ark server hosting also gives you the flexibility to configure the game settings as per your ideal requirements. Our server boats over 100 different in-game settings that you can configure to your gameplay liking to enjoy the high-end gaming experience.
Price-efficient
You don't have to worry about digging deep into your pocket to pay us for our server hosting service. Our pricing is very reasonable and much cheaper than most of our counterparts.
We strive to provide you with premium quality server hosting service at the "right" pricing to ensure you don't feel like you're wasting away your savings on a computer game.
Why Choose Us for Your Ark Server Hosting?
With our Ark: Survival Evolved server hosting, you can get access to optimum in-game server settings that are mostly stripped down to the bare minimum in case of the normal game server that you use. Our dedicated Ark server hosting opens up your multiplayer gaming experience to new possibilities that are, otherwise, unthinkable. In addition to the wide array of server customization options, our hosting service also ensures premium gameplay experience with seamless gaming speed even with crowded traffics.
Frequently Asked Questions
What's the monthly hosting rental cost?
Monthly rental cost for Ark Survival Evolved server hosting depends on server configuration. In addition to that, the number of slots, additional memory, the server type (VPS or shared), MySQL database, branding and payment period also determine the monthly rental cost.
If you choose to rent a server for a longer period, you can avail a 30% discount we often offer over server hosting. So if you think you will be into Ark Survival Evolved for a longer time, we recommend renting a server for 3+ months.
How long do I have to rent a server?
You need to rent a server for any game (including Ark Survival Evolved) for at least 30 days. Longer you choose to rent a server, cheaper it turns out to be for you. When you rent a server, you can split the cost between your friends/players as well.
Will my Ark server always be online?
Our server comes with 99.9% uptime; therefore, it will always be online. With prepaid server, you remain online even if you turn your computer or console off. This allows your friends or team members to enter the game anytime. For this, your PC, PS4 or Xbox One does NOT have to be on all the time. Also, you can access the server via dashboard whenever you want. You will always find the server online.
Can I change to another game later?
Yes, you can change to another game later such as Minecraft, Rust or GTA V. If you do not find Ark Survival Evolved interesting or it has been enough time playing the game, you can simply switch to another one. Just message us via the contact page and we will get back to you in a jiffy.
How many players can join my server?
The number of players depends on the number of slots you choose for your server. You are required to choose the number of slots before checkout. For Ark Survival Evolved, the number of slots can be 10 – 128. With VPS or dedicated server; RAM, CPU etc. determine the number of slots.
Do I need more RAM/CPU for my server?
If you want to add more resources to Ark Survival Evolved or play the advanced mode of the game, you might need to add more RAM/CPU. As prepaid game servers are not perfectly configured, they do not require add-on specs. However, you can still add them if you wish to.
Can I install mods/add-ons on my Ark Survival server?
Yes, you can install Ark Survival Evolved mods/add-ons to the server. In fact, you can install as many mods/add-ons as you want. It makes your game more interesting, and you will never get bored of the game. If you do not know how to install Ark Survival Evolved mods/add-ons, you can learn it with the help of our guide.
If you have any other questions regarding our cloud performance server hosting, get in touch with us via our contact page, and we'll get back to you ASAP.
About Ark: Survival Evolved
Loved Jurassic park? Well, if you did, Ark: Survival Evolved may be one of those games you may want to try your hands on. Ark: Survival Evolved is an action-adventure video game that revolves around the concept of surviving and taming prehistoric creatures, including Dinosaurs to help you with the countless quests as the game progresses.
The game was first released in August 2017 for multiple gaming platforms including Microsoft Windows, PlayStation and Xbox. The Android and iOS version of the game was released the subsequent year. The developers released the Downloadable Contents expansion packs of the game which helped the game gain massive popularity in the community.
In fact, ARK was one of the most popular action-adventure games by November 2018. Nearly 2.4% of the total PC gamer population were actively playing ARK and was also ranked as the most popular game in Germany. The unique gameplay, immersive graphics and the DC expansion versions are one of the core reasons why the game has become such a huge hit amongst the PC gaming enthusiasts.
Gameplay
The gameplay of the Ark: Survival Evolved is primarily focused on surviving on a fictional land called ARK filled with prehistoric creatures. The game follows an open-world navigation mechanics. The players can roam around the land either on foot or by riding a dinosaur or any other prehistoric creatures available at their disposal. The game can either be played from a first-person or a third-person perspective.
The game can be played either as a single-player mode or multiplayer mode as well. The fundamental concept of the single-player mode involves taming and feeding the creatures to help you complete some specific tasks, build bases or attack other player's base. Players can get access to a wide range of improvised weapons and firearms to defend their base against the attacks from other players.
Creatures
At present, the game has about 176 creatures. Although the game initially consisted of only prehistoric creatures and dinosaurs, the number of creatures and animals grew as the game progressed.  The game developers later on added some of their original signature creatures and also some mythical creatures such as phoenix and wyvern to the game rank.
Multiplayer Mode
In multiplayer mode, the players can join together and form "tribes." These tribes can protect or assist each other in attacking other tribe base or defending their base as well. The maximum allotted number of tribe members varies with different servers.
There is (of course) the PvP game mode that allows players to fight each other. However, there is also a PvE game mode where the players are immune to each other's attacks or simply barred from attacking each other's base. Other than that the other available game mods on multiplayer mode are –
PvX mod (specific for mobile platform)
ARKpocalypse
Survival of the fittest
Primitive
Hardcore
How To Install Mods on An Ark Server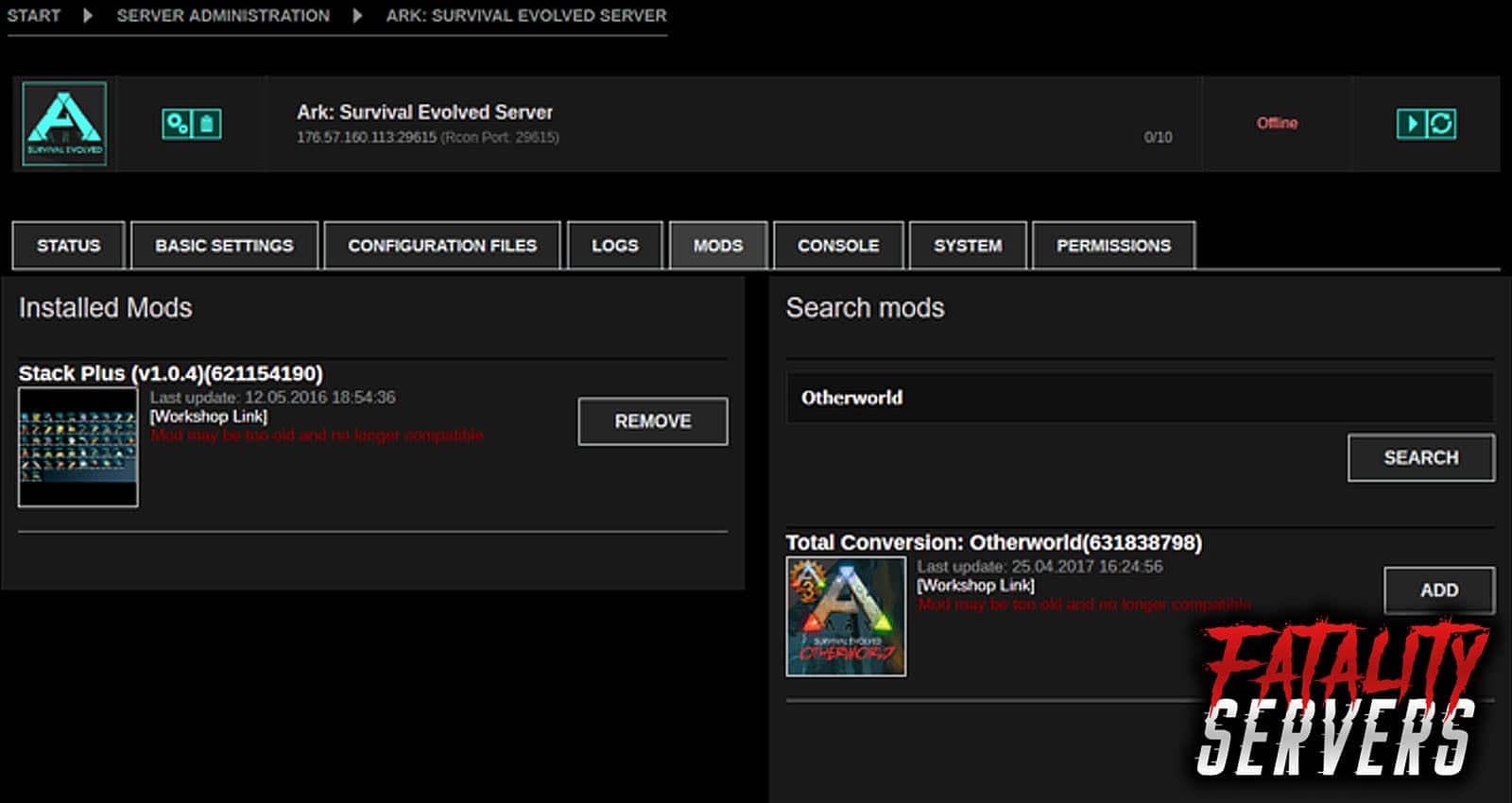 Ark: Survival evolved is all about an open-world survival, and it is even better when it is multiplayer. There are the tribes, the construction, hunting, and so many things only limited by imagination. The ability to create custom servers truly creates a great an excellent experience for players too, but to truly create a great and unique experience, Mods are the way to go. This can be a very confusing task, especially for new players. So here is a tutorial on how to install mods on ARK: Survival evolved servers.
Backup and Update the game
Backup the entire Ark server files. This is useful in case of mistakes, or to restore any changes made, and so on. The Server files should come up around 42 GB of space. After that, update Ark: Survival Evolved server into the latest version available to avoid any complications as well.
Backup Server with Steam CMD (or Steam Command Prompt)
The Steam CMD is a useful tool for updating dedicated servers. Running it the first time will download any and every necessary file for the game son Steam. Once that is done, create a new document file as a .bat file.
Open the .bat file through an edit and copy the following dialogue:
"@echo off
Start "" steamcmd.exe +login username password +force_install_dir "G:\steam\ARKServer" +app_update 346110 validate +quit". Use actual username and password for the login details in the .bat file. As for the last line, it is where the downloaded data files are stored.
Run the .bat. The file will require an authorization. Once that is complete, the .bat file will download any necessary applications. This can also be used to update the servers when available.
After that, go to Arkserver>shootergame>binaries>windows64. Create another .bat file here. Name it as StartServer.bat and copy the lines "start ShooterGameServer.exe TheIsland?SessionName=ATestServer?Port=27015?QueryPort=27016?listen". change the "Session name" with the server name.
The Query Port forwarding is essential in order to allow other players to find and join the server.  Go to portforward.com to set up port forwarding. Once the router is selected, the instructions for set up will follow. Go to setuprouter.com to find your router.
After the set-up is complete, run the StartServer.bat.
After that, there will be a new folder under "shooter game" folder. Open Saved>config>Windows Server. The GameUserSettings.ini is the file where various parameters for the servers can be edited, such as password protection, max player levels, and so on.
Include the parameters under a new line [server settings]. This is not recommended for new modders.
Go to arkservers.net to check whether or not the server is running. The website will display every active server online. However, one can use the search bar to find the specific server with the help of the server name that was configured.
Installing mods using Ark Server launcher
The Ark Server launcher is a simple server managing tool. It also downloads mods, and it provides an auto download of mods when other players join the server. Thus, players do not need to download the mods themselves.
Firstly you need to download the Ark Server Launcher. The Ark server launcher should come in three files: a folder called "Default," the server launcher and am updater. Run the launcher, and set the installation to Local. Click on "Browse", and select the folder where the ark server files are located. Click next, and the launcher should auto-install and set up.
After the file is downloaded, click on Mods in the program menu. A search box should appear, along with a list of mods. Just click on the preferred mod, and click on "add" and the mods should appear on the left side of the screen. Click on the mod that was added, click on activate. After a checkmark appears, click on "install and update," and the mod will be installed to the server automatically. After that, start the server.
Installing Ark Server mods from Steam
Locating the Mods:
Now another way to install Mods is directly through Steam. Subscribing to a mod should automatically download that mod onto the directories. The Mod files should be located under steamapps\common\ARK\shootergame\content\mods.
Installing the Mods:
The next step is to install the mods onto the server. The server has to know what to do with the mods, but that comes later. First of all, log into the Server's FTP. Just navigate into the local site directories and go to the location of the mods. When found, click and drag towards the remote site. This will automatically add the mods onto the server.
To avoid any complication, it is best to install mods with a clean slate. Before installing new mods, make sure that the server is fresh of previous or old files. If DLC items are included, however, do NOT remove them. Once the files are uploaded onto the servers, there are a few last things that need to be done:
Run the server first and close it again. This will generate a saved folder.
Open the command center and from there, go to the files tab, and look for a gameusers.ini file. This will be found in the config folder under "saved." Open the file and look for the line "ActiveMods=."
To tell the server to run the mods, type in the name of the mod, save and exit the file. In case of multiple active mods, do the same with commas to separate.
Now, after that, restart the server. If the instructions is followed to the letter, there should be no problems. The server will run with the mods active.
Common Problems and fixes:
One of the most common errors with Ark: survival evolved server mods is the mismatch error. Mod version mismatch error usually happens when client's server and the players have different versions of the mods. The problem can easily be solved by removing all prior mods, and then reinstalling them again.
If the server-client is run through Ark Server launcher, this will not be a problem. The launcher will automatically provide the files as a download directly.
Benefits Hosting Your Own Ark Survival Evolved Server
You can have your own tamed dinosaur, a place for shelter and a tribe which contains all of your friends. This is a great way to play with graphics and learn about the different techniques that can be used to provide an enjoyable experience.
The gaming world is all about fantasy with graphics portraying the reality. Taking into account the first sentence, the game Ark: Survival Evolved takes you back eons ago to a prehistoric island where you yourself find ways to progress by hunting, harvesting and building. Ark: Survival Evolved is a creative multiplayer game where you can create your own tribes, tame your dinosaurs and find ways to survive towards the next level sustaining.
It Enhances the Gaming Experience
With a server, the gaming experience goes to the next level of enjoyment. You can choose to add how many players you want and select the location as well.
You Can Build Your Tribe
Servers provide an easy way to make your own tribes and protect them from other rivals. You can add your friends and other gaming enthusiasts in order to build and grow your tribe. To invite others, you can share your tribe online for others to join.
Rules by Your Choice
It's your server, it's your game and ultimately your rule! As you own the server and are the prime administrator, you can set and change the rules up to your liking. Servers give you full opportunity to build and grow and be as creative as you can.
You get access to exclusive content
Not everyone is a fan of playing on an island and those who want to experience the gameplay out of the traditional setting, you can get access to exclusive content. Depending on the type of server you are paying for, you can unlock various maps and if you are going for a premium one then you can have access to all the maps, downloadable contents and extras.
Cluster Server Feature
A cluster server is an add-on depending upon the server you are paying for. It's basically a server side location that let you store Ark data that is uploaded from an obelisk (characters, weapons, items, dinosaurs). Otherwise the data is saved locally on the machine of the person who is uploading and can then be downloaded to any server that does not block the downloads.
The main benefit of the cluster servers feature is that the data can be transferred back and forth between the servers other cross play would not be possible. It also enables you to create multiple worlds. Though not a must have feature, being able to travel between different maps can certainly enhance your ARK experience. So what are you waiting for? Rent your own Ark Survival Evolved server now!