Rent your own Minecraft server hosting from Fatality Servers. We offer premium servers from $4.90 a month that come with DDoS protection and 99.9% uptime!
Cheap Minecraft Hosting from $4.90
Rent your own mod-supported Minecraft server from $4.90/month. We offer tons of mods and customization so you can tweak your MC server as creatively as possible. Check out our brief overview of features down below:
4-500 Slots
Easily add mods & add-ons (PetBlocks, CraftTweaker, etc.)
DDoS protection
Server Hosting Features
Here's a detailed look  at the features you get with our Minecraft server hosting packages:
DDOS & Security Protection
At Fatality Servers, we take your security seriously. It's no joke when you rent Minecraft servers that can leave you vulnerable to various security threats. It's even worse when you do not have the required security protocols in place to check these threats. While some DDOS threats are minor and can only cause small inconveniences, there are others which are more dangerous. These can include lethal cybercrimes like Data breaches, Malware Infections, Viruses, etc.
Our services are all protected with a slew of DDOS security measures that will guarantee that your game stays up and running without disturbances. These measures include both manual detections as well as automated security processes that ensure that your server stays online even when others may be down and out!
High-performance Processors
Our processors are all high-grade hardware that provides better and more efficient performance. Each processor is configured to ensure that your Minecraft hosting is executed smoothly and without hassles. The problem with other servers is that their hardware may not be appropriately configured to provide you with the specific gaming requirement you need.
With Fatality Servers, you do not have to worry about processor speeds. When you sign up with our servers, we provide you with the most appropriate and ideal hardware to support your gaming needs. You can also choose from different levels of processor speed depending on your hosting requirement. This ensures that you get a tailor-made processor speed for any time of Minecraft hosting you require.
Round-The-Clock customer support
One of the most dynamic features of our server-hosting service is our world-class customer support. This is one area where we've noticed that clients of hosting services are least satisfied. This is because most companies focus more on the performance aspects that they do not have enough resources to form satisfactory customer service.
With Fatality Servers, our technical help and support is just a click and call away because we're available 24 hours a day, and we look forward to these interactions. We also use these exchanges to refine and reinforce our services through customer-oriented inputs ad feedback. The whole goal of this practice is to make sure that you are heard and your concerns are immediately addressed.
Numerous global locations
Our centers are established all over the globe in strategically placed sites so that we can cater to all regions. With multiple data centers, you do not have to worry about your sped and performance because of your location. Your servers will be hosted and configured to the nearest and most viable center.
This will make sure that you enjoy an uninterrupted hosting experience with high speed and zero lagging. If you're located in a Tier 1 country, you can enjoy even better performance compared to most other hosting providers.
Zero waiting time
Our hosting services are structured in a way that will make it easy and convenient for you to have your Minecraft server up and running in no time. It takes just a few clicks to choose and set up your server. Most of the process is highly automated and supervised. This means you don't have to waste so much time hosting your game.
We make sure that your service is activated immediately after you make your payments. This implies that there's no extended period for you to wait while your server is being activated.
Easy-to-operate control panel
Our control panel gives you a wide range of options and controls to choose from. The whole objective here is to provide you with as many choices as possible. This makes it so much easier to manage and supervise your games and its participants. You get conventional controls as well as new features that can expand the way you monitor and manage your game.
We make sure that the interface and controls are oriented towards you as a gamer. This way, you can efficiently operate and control your server whether you are new to the industry, or an experienced campaigner.
Why Choose Us for Your Minecraft Server Hosting?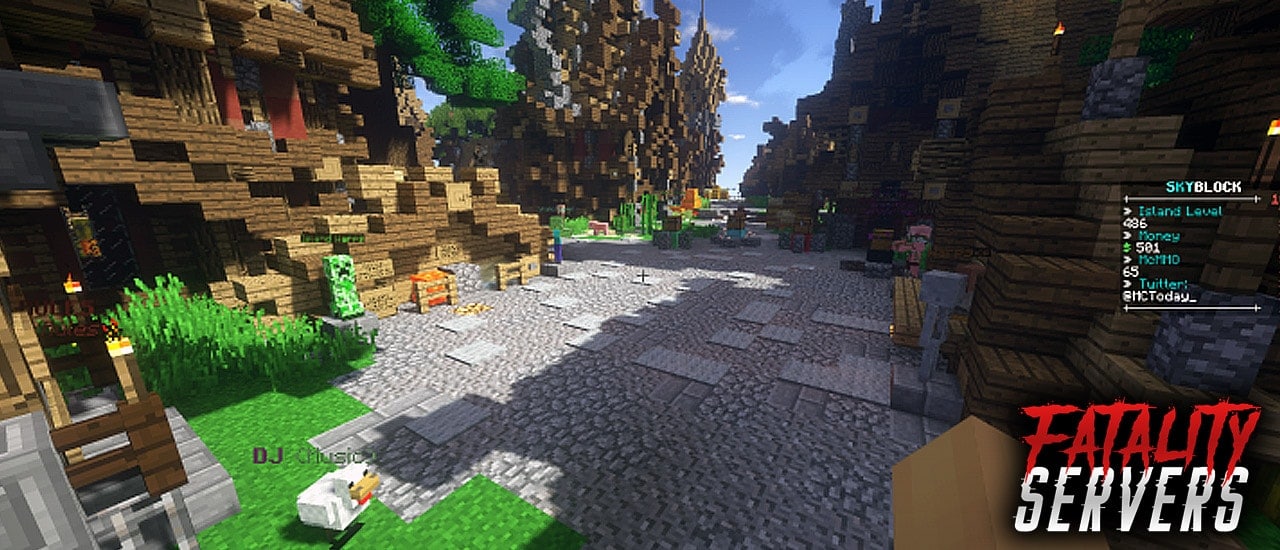 Minecraft has grown to be one of those timeless games that are vibrant, expansive, with literally no limits to speak of. It involves a lot of creativity, focus, time, and work to really make the most of the game. This means that you can't just host it on any server and hope that nothing goes wrong. You need secure servers that are dedicated to the game. Additionally, you will want Mod support and plugins too! These and many other advantages await you when you sign up with Fatality Servers!
Minecraft is a game where you can lose yourself (in the right way) in creativity and exploration! But to do this, you need reliable hardware backing you up, and stable hardware holding your games together. When you rent Minecraft server hosting with us, you're guaranteed to get an all-round hosting experience that will make you forget about everything else!
Get access to all types of Modpacks and Server Types
One of the best things about Minecraft is its ability to accommodate new ideas and innovative tweaks. We love the fact that Minecraft can grow and evolve according to your own preferences and inclinations. This is why we make sure that you get all the best Modpacks and server types that Minecraft supports. Whether you want to modify settings, get new features, increase admin actions, or introduce unique characteristics, etc. we offer them all. Our services ensure that you are not left out of any new developments or innovations that are created by the creative minds of the Minecraft community!
Read our customer feedback
Best support and help
Needed some help adding mods to my server and got help quickly. Great support!
Great hosting with tons of add-ons
I wanted my own server with tons of add-ons and mods (PetBlocks) on it and fatality servers offers just that! Easy setup, clean and pain-free. Recommended to anyone that have trouble trying to host their own servers. Cheap pricing as well.
What's Minecraft?
Minecraft is a game that unleashes your experimental and creative side. It is a universe on its own, and it deserves the best and most reliable servers to function on. Fatality Servers recognizes the significance of the game, and the emotions and experiences the game invokes in us as gamers. This is why we have dedicated ourselves to creating the right environment and atmosphere in which Minecraft can be enjoyed in its full glory and potential!
How to Install Mod-Packs on A Minecraft Server
Minecraft is a very versatile game. It is sandbox, and the things one can do is only limited to what the players think they can do. But modifying a server map can take a lot of time, energy, and resources if one is doing everything from scratch. And then there is the amount of memory and space one would require to be able to run a high populated server. The whole thing becomes less fun and more stress.
Modding is a great way to improve gameplay, mechanics, server stability, and even gameplay aesthetics. Everyone knows that players of Minecraft do whatever they want to do, and, don't take advice. The game is already very customizable, but mods add a different level of engagement to the whole thing.
Ever since 2009 release of Minecraft, there have been multiples of mods that are available for download. Installing mod packs can be very simple if one knows what they are doing. All the modder need do is to move a few files and restart the program.
Installing mods on Minecraft Server
If a player knows how to install mod packs, it is just a matter of how much the rig can handle to be able to run it smoothly. But for those that don't, here is a simple tutorial:
Find, download and run the Mod pack
Mod packs usually come with the different installation process. But as far as finding them goes, there are daily updated mod lists available for download. Make sure to check the requirements and any specific requirements to not have more confusion later on.
Some mods also require other programs to install or run properly, which will also be mentioned in the descriptions (if any). When it comes to mods or Mod packs, looking for a specific mod can sometimes be a bit problematic if the updates are discontinued. Mod packs are usually downloaded in a collective zipped archive.
First, select the mod pack on the website. On the site description, there should be a server download option. This is the server version of the mod Pack so click on that. The download should commence automatically. Once downloaded, unzip the contents and run the mod pack. Running the package is essential to see if the mod pack has any missing files.
If it doesn't work or is corrupted, there should be an error message.
There will be some unnecessary files that are added after running. These can be deleted, besides they don't make any difference.
Set up jar file:
The next step is to set up a Jar File. For this, a jar folder would be needed. Simply create a folder and label it "JAR." Once done, the Jar file will require three files:
The base .jar file which is elementary to run the mudpack on the server
The forge .jar, which is needed to run the forge
The folder which should be labeled "library." It contains the components which are necessary for running the forge.
All three comes with the mod pack so select and move the three files into the "jar" folder.
Install the Mod pack:
This is an important step and the one where the server is "told" which jar file should be run. To install a Mod Pack, a third-party FTP client will be needed. Run the client, and select the folder where the Mod Pack is situated. It is critical to make sure that the server is not running any previous files for the mod pack to be installed successfully.
Select a new file, and after making sure the slate is clean, go to the folder where the Mod pack files are stored. Simply select and drag all the data into the home directory of the server. It should take some time for the data to get uploaded.
It is important to tell which jar should be selected for the server to run. This is easy. Simply go to the server details page, and there should be a JAR File text box. Type in the name of the forge .jar file, and click on "save."
Start and review initialization:
The next step is to start and run the server for the Mod pack to initialize. Simply go to the console panel and start the server.
The initialization process is automated, and there should be a continuous output display in a prompt screen. There should be two indications of whether the mod pack has been installed or not: the "Startup done!" message or the checkmark on the "Server console" checkbox.
After confirming that the server has successfully started up, connect to the server with the mod pack and the respective client.
Errors and fixes:
Following the above steps should see to it that the mod packs are successfully installed and running. There are not many errors, but there may be some rare crashes. This is mostly caused by the launch method. Some players get error messages like "Failed to download…" most likely resources.
This is usually due to the automated security firewall blocks not allowing the required run. Simply turn off the antivirus malware protection until the download is complete.
Other problems can be more severe, like crashing the server or servers not starting up. This could be a problem with the Mod pack or the way it was installed. The best way to deal with this is by following the following steps:
Determine the cause of the errors. Run the console and check for error messages, or go to the command center, go to files and check the crash reports. The mod files causing the error should be indicated in the crash report.
Go to the command center, go to the files tab, and find and open /config/forge.cfg. If the error entities are not present here, the chances are that this is not a forge based server.
Look at the "B:removeErrorringTileEntities=false"message and replace the last part with "true". This should remove the files causing the error. Save the file and close it.
Restart the server, but before doing that, change the settings back to "false."
In most cases, disabling and re-enabling the mod pack solves the problem and you'll be able to host your Minecraft server without any issues.